Problem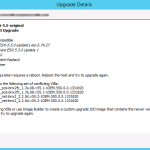 Sowohl ein Upgrade auf vSphere Version 5.5 mittel VUM (Update Manager) als auch das "harte" booten des Hosts von einer Upgrade CD/ISO schlägt mit Warnungen fehl:
Compliance State: Incompatible

The upgrade contains the following set of conflicting VIB's:
[Je nach Datum kann die Liste der VIBs variieren, aber es geht immer um Broadcom NIC Driver]
Lösung
Da scheint hp bei der Nummerierung der Versionen durcheinander gekommen zu sein. Einfach den aktuellen passenden Treiber VOR dem Update installieren, der ist korrekt benannt, fertig.
Die "richtigen" VMware-VIBs herunterladen

Broadcom NetXtreme II Network/iSCSI/FCoE Driver Set

.zip auspacken und das Offline Bundle (in einer weiteren .zip in der .uip) auf den betroffenen Host nach /tmp/ hochladen und installieren:

esxcli software vib install -d –depot=/tmp/offline-bundle.zip -f

Reboot, Rescan, läuft.
Trotzdem raten wir uggli-Admins zur customized HP-ISO. Die ganzen Sensoren in der HP-Hardware lassen sich dann vom Start weg nutzen und das ist der einzige [uns bekannte] Weg, alle Energiesparfeatures der DL und BL-Serie zu nutzen.