Problem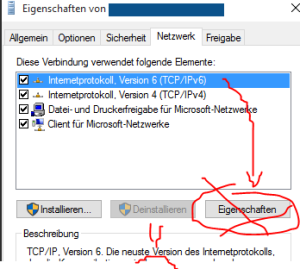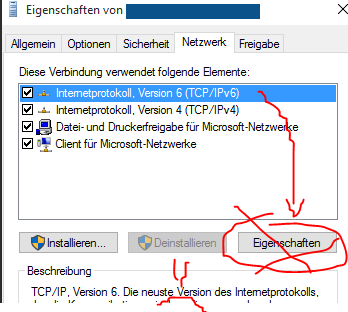 Unter Windows 10 funktioniert der "Eigenschaften" Dialog der TCP/IP-Einstellungen nicht. Egal ob man v4 oder v6 auswählt, es erscheint kein neues Fenster, es lassen sich keine Einstellungen machen.
Das ist besonders ärgerlich, weil der Administrator den Haken unter "Erweitert" bei "Standardgateway für das Remotenetzwerk verwenden" nicht mehr setzen kann. Ist der Haken gesetzt (Standard), sorgt die Einstellung dafür, das jeglicher WAN-Traffic über das Remotenetzwerk abgewickelt wird. Auch der Youtube-Traffic läuft dann über das Remotenetzwerk.
Lösung
Der Dialog funktioniert schlicht nicht, das Problem ist bekannt ("Microsoft has confirmed this to be a Problem"). Die Einstellungen lassen sich glücklicherweise an der PowerShell vornehmen.
# Anzeigen der Verbindungen (mit Einwählpunkten)
Get-VpnConnection | Select-Object name,serveraddress
# Setzen der Einstellung (pro Verbindung)
Set-VpnConnection "NAME DER VERBINDUNG" -SplitTunneling $true