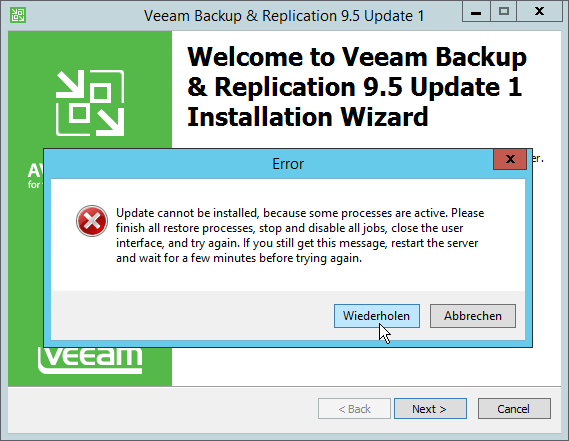 Bei einem Update von Veeam Backup and Replication kommt es gerne zu einem etwas verwirrenden Fehler:
Update cannot be installed, because some processes are active.
Please finish all restore processes, stop and disable all jobs, close the user interface, and try again. 
If you still get this message, restart the server and wait for a few minutes before trying again.
Es laufen aber ganz sicher keine Backup-, Restore-, oder Copy-Jobs mehr.
Lösung
Den "Veeam Backup Service" beenden. Aus unerfindlichen Gründen schafft das Setup es nicht immer, diesen korrekt zu schliessen.
C:\> sc stop VeeamBackupSvc
Falls das nicht hilft, einmal die Backup-Maschine neu starten.