Veeam Backup&Replication beendet seit dem Update 3a alle Backup-Jobs die Windows Server mit einem installierten SQL-Server Express Edition beinhalten mit einem gelben "Warning" Hinweis. Das passiert auch bei SQL-Servern, deren Application-Aware Benutzer zu wenig Berechtigungen auf den Datenbanken besitzt. Die Maschine an sich wird aber gesichert.
Die Warnung lautet
Unable to update SQL backupset for instance SQLEXPRESS : Code = 0x80040e09
 Code meaning = IDispatch error #3081 Source = Microsoft OLE DB Provider for SQL Server
 Description = The UPDATE permission was denied on the object 'backupset', database 'msdb', schema 'dbo'.
Das passiert, weil der Benutzer der von Veeam für das Application-Aware Processing genutzt wird, standartmäßig zu wenig Berechtigungen in einer SQL Express Edition (EE) Datenbanken besitzt um die Transaktionsprotokolle zu markieren. Der Fehler tritt erst seit Update 3a auf, weil Veeam dort das Verhalten des Agenten geändert (=korrigiert) hat.
Lösung
Die Berechtigungen in der Datenbank müssen nur schnell angepasst werden. Das geht am einfachsten mit dem SQL Management Studio. Standartmäßig steht eine SQL-Express Instanz alledings nur auf dem lokalen Host zu Verfügung, weswegen man das SSMS entweder auf dem betrroffenen Server installieren muss, oder die SQL-Instanz über das Netzwerk erreichbar macht.
Welche Application-Aware Processoin Credentials werden verwendet?
Das kann man direkt im Job nachschlagen, unter Guest Processing > Guest OS Credentials.
Dann …
SSMS "Als Administrator" starten und mit localhost\sqlexpress verbinden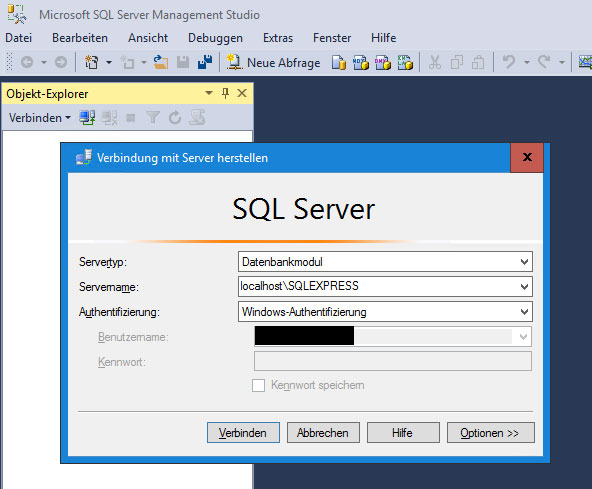 Falls noch nicht geschehen, unter Sicherheit > Anmeldungen den betreffenden Benutzer hinzufügen.
Dann dem Benutzer links unter "Serverrollen" die Rolle "sysadmin" zuweisen.