Problem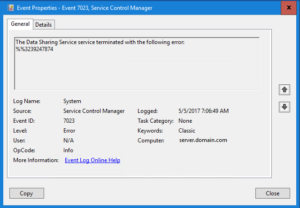 Der "Datenfreigabedienst" stürzt beim booten ab und startet auch nicht mehr freiwillig. Stattdessen erhält man bei einem manuellen Start diese umfassend hilfreiche Fehlermeldung:
Dienstfehler: 0xc1130002: 0xc1130002
Es gibt auch die zugehörige Event ID 7023:
The Data Sharing Service service terminated with the following error: %%3239247874
oder auf Deutsch (auch nicht viel aufschlussreicher):
 Der Dateifreigabedienst wurde beendet, mit dem folgenden Fehler: %%3239247874
Lösung
Der Dateifreigabedienst (Fileserver, dssvc) und die Benutzerzugriffsprotokollierung ("User Access Logging Service", ualsvc) starten in einem gemeinsamen Hostprozess und erzeugen so in manchen Fällen Zugriffskonflikt. Das passiert schon mal, wenn man beispielsweise einen RRAS-Server nachträglich zu einem Dateiserver hinzufügt.
Man muss also die beiden Prozesse also nur voneinander trennen, und schon starten die Dienste wieder wie gewohnt:
C:\> sc config ualsvc type=own
C:\> sc config dssvc type=own